▶︎ Sunday, 3 October : Mambo Day
4 hours of mambo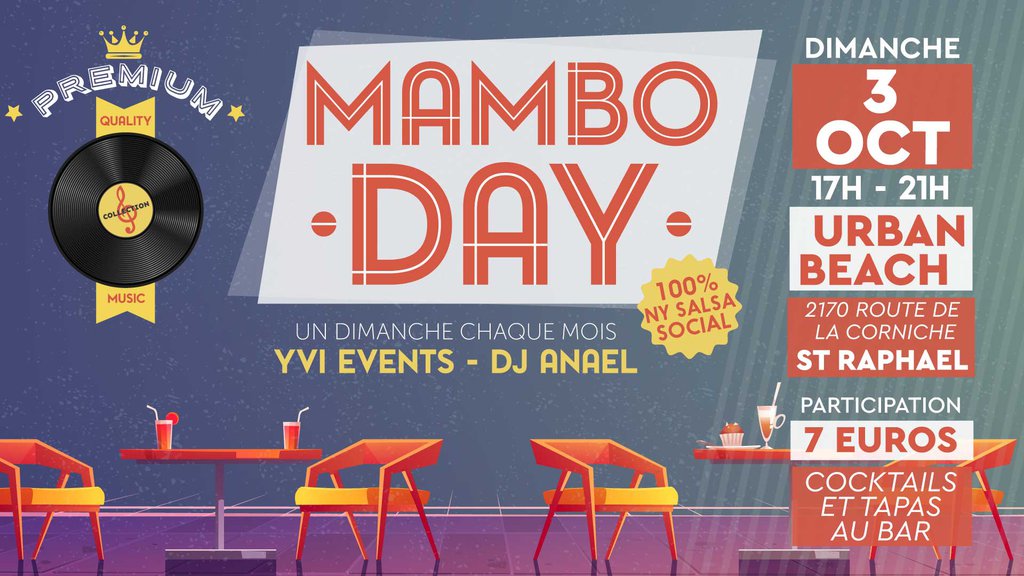 ▶︎ When ? Sunday, 3 October, 5.00pm - 9.00pm
▶︎ Where ? Urban Beach / 2170 route de la Corniche, St Raphaël
▶︎ How much ? 7 euros
▶︎ Mambo Day
———————
A sunday afternoon once a month, enjoy your ears with a 100% in line salsa selection : Mambo, Son, Montuno, Guajira, Guaracha, Guaguanco, SRomantica, Brava, Cha-Cha ... 0% Bachata 0% Kizomba !! 100% Good Vibes by DJ Anael !
Welcome to Mambo Day !
▶︎ When ?
————————
One sunday per month, from 5pm to 9pm.
▶︎ Where ?
——————
Urban Beach - 2710 route de la Corniche - St Raphël
▶︎ How much ?
—————————
7 €
The bar will be open and you can purchase a selection of cocktails, soft drinks, beers and tapas plates at a very affordable price
Please repect and follow health security rules and recommendations at the date of the event !
COVID PASS MANDATORY
▶︎ Events Notification
Register to get notified of future events. No more than one email per week !